Emily has recently started wanting to put together jigsaw puzzles. She got a couple puzzles for Christmas and she put those together in no time.
We got Emily a new puzzle at Mardels yesterday. It was 100 piece puzzle rated ages 6+. She sat in her room and worked on it all afternoon.
And by the end of the day, she had it completely put together! All 100 pieces completely put together without any help from anyone!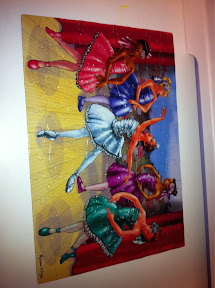 So today after lunch, Emily and I went by walmart and picked out three more puzzles. One has 100 pieces and the other two have 300 pieces each.
Emily worked on the 100 piece puzzle this afternoon during naptime. And she had it completely put together in just a few hours!
Now she is working on one of the 300 piece puzzles. We will see how long this one takes her.
Any guesses??
– Posted using BlogPress from my iPhone