Noah and I stayed home from church this morning so that he could get some extra rest and wouldn't get the church nursery sick.
I think Noah is feeling better today. He is eating better and playing more. Last week, we did not get many smiles from Noah but he seemed to be better today.
Noah still sounds stuffy and rattly in his chest. Sometimes he just needs to cough to get that stuff up.
Yesterday, we bought Noah a mesh feeder. You put different types of food in it and then he chews and sucks on it. The first thing he tried was apple slices. He really liked them and hot mad when we would take them away. When he was done with it, there was not much apple left in the feeder!
Today we tried watermelon in Noah's feeder. He liked the watermelon too! He ate it until it was pretty much all gone.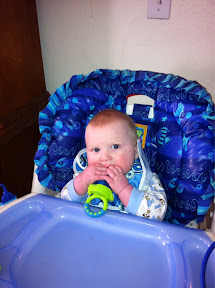 After he was done eating, he had to go get a bath. Emily helped us. I kept having to remind her to give him a toy too. She even stayed in the bathroom and played in the water after Noah got out.
She finally joined us in the living room and she and Noah played in the floor for a while.
Overall, it was a good day. I fixed a roast, mashed potatoes and carrots and Lima beans for lunch. It was all pretty good. I got up at 4am to put the roast and carrots in the crock pot.
I do my roast pretty simple. I put the carrots in the bottom of the crock pot and the roast on top. Then I sprinkle a packet of onion soup mix over the top and pour in a bit of water. I normally cook the roast on low, but my roast was still frozen! So I cooked this one on high for 4 hours then low for four hours. It still turned out nice and tender.
– Posted using BlogPress from my iPhone