This weekend, Emily and I went to Toys R Us to find a new pacifier for Noah. He is getting to where he really likes the pacifier at times, but it has to be a certain type and shape.
We had probably a dozen pacifiers at our house, but only one that he likes and will take. And then on Saturday night, the pacifier broke. My fault! But we needed to find a new one and fast.
We looked for a new pacifier at Wal-Mart but they did not have the kind he liked. So we went to TRU and found some. We bought four. Just in case.
As we were leaving, I noticed that they had some cute baby pajamas on sale. They were Disney characters and I knew Noah would look so cute!
Here is a few pictures of Noah in his new getup.
Baby Woody!
And the hair sticking up is just awesome!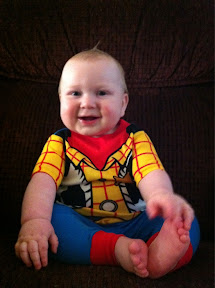 And as you can see, the toes are king these days as well.
All he needs is a cowboy hat.
Emily just loved Noah in these pajamas. She said that she needs some Jessie pajamas now and I tend to agree.
If you know where I can find some girls Jessie pajamas, please let me know!