Happy Mother's Day to all the moms out there. A special shout-out to my wonderful mother and mother-in-law. I admire both of you very much and am blessed to have you in my life. I love you!!!!!
I had a wonderful day with my beautiful two children. It was not at all lost on me that this was my first Mother's Day as a mother of two. I am very blessed!
After church this morning, we went to lunch at the Cheesecake Factory with Nanny, Poppa, Aunt Cherry, Uncle Gary, Madison and Mason (and the rest of Oklahoma City). After the meal, Mike and I shared a piece of dulce du leche (caramel) cheesecake. It was sooooo good.
When we got home from lunch, I wanted to try to get a couple mothers day pics. You can see how that went. Oh well. We were together and that's what counts.
For Mother's Day, I wanted a new windchime. We went to a couple stores last night and finally found this blue bird. So cute. It's perfect.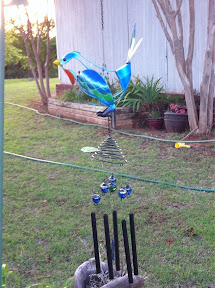 I also got this cute little whirligig. Emily and I found a place for it beside the flower bed last night.
I'm so thankful for my two kids!!!!!!
– Posted using BlogPress from my iPhone