The other week, we talked about one of the summer essentials -Watermelon. Now we are talking about another one – Ice Cream!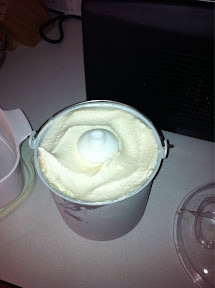 A few weeks ago, Mike ordered me an electric ice cream maker. It's a Whynter model that has a compressor in it. You don't have to freeze the bowl and it does not require ice or rock salt or anything.

You just pick your recipe, mix them up, and pour them into the mixing bowl. Then just set the timer and the waiting begins.
For most recipes, it takes about an hour to freeze. And a batch makes about 1.7 liters of ice cream. I'll do the conversion for you … That's about a half gallon.
This ice cream machine makes a very rich and creamy ice cream. It almost does not have the consistency of the traditional homemade ice cream. It's much smoother and creamier.
I will post some of the recipes we have tried so far. Tonight, we made Coke Float Ice Cream. But ours was Pepsi Float Ice Cream. It turned out really good.
When the time ran out after 60 minutes, we each had a small bowl of ice cream even though it was not completely frozen. It was good, but it was not as creamy as some of the other recipes.
Since the batch was not completely frozen, we turned it on and let it run some more. After about 20 more minutes, it was so smooth and creamy. It was sooooo good!
Okay, okay here is the recipe:
2 cups sweetened condensed milk
2 large cans evaporated milk
1 pint milk (that's 2 cups)
Soda to fill the rest of the container
I halved this recipe so that it would fit in my ice cream freezer. I think I would have liked a little more Pepsi in it, but no more would fit. Maybe next time I will leave out some of the milk and add more Pepsi.
This is a very simple recipe, but it is very good.
– Posted using BlogPress from my iPhone